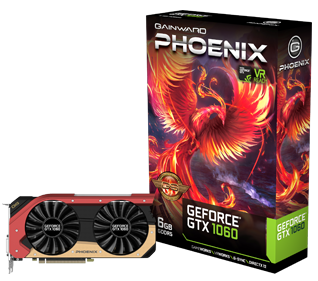 As the leading brand in enthusiastic graphics market, Gainward proudly presents the new NVIDIA Pascal based GeForce® GTX graphics – Gainward GeForce® GTX 1060 6GB series. With the most advanced process – 16nm FinFET, the Gainward GeForce® GTX 1060 6GB series deliveries powerful graphics performance with extremely high efficiency power usage. By adoption of the 8Gbps GDDR5 memory, the Gainward GeForce® GTX 1060 6GB series gives you up to three times performance and power efficiency of previous generation.
Gainward GeForce® GTX 1060 6GB Phoenix series comes with new Phoenix cooler design, provides extreme high thermal performance with very low acoustic level even under heavy-loading gaming environment. The cooler design is also including a LED-lighting loading indicator that gives users clear indication for the GPU temperature range. And, a "dual BIOS" design brings the confidence from a second VBIOS on the board that provides backup-BIOS to boot up whenever needed.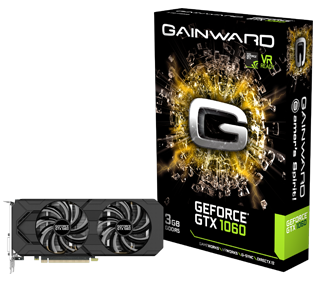 Zero RPM fan design is supported for all Gainward GTX 1060 6GB series. Zero RPM fan feature will keep the fans stop under low GPU loading operation, and start to work whenever the GPU temperature raising up. Users will enjoy totally quiet gaming environment with the feature of Zero RPM fan. DrMOS also is used that provides higher power efficiency than normal MOSFET design.
Gainward GeForce® GTX 1060 6GB series is loaded with innovative new gaming technologies, making it the perfect choice for the latest high-definition games, delivers brilliant performance that opens the door to virtual reality and beyond.