As the leading brand in enthusiastic graphics market, Gainward proudly presents the all new GeForce RTX 20 series - Gainward GeForce RTX 2080 Ti Phoenix and Gainward GeForce RTX 2080 Phoenix. Gainward GeForce® RTX 20 Phoenix series are the reinvented graphics cards, accelerated by NVIDIA's revolutionary architecture – NVIDIA Turing GPU, combined with all-new GeForce® RTX platform, fuses together real-time ray tracing, artificial intelligence, and programmable shading. You've never created and enjoyed games like this before. With the most advanced process – 12nm FinFET and loaded with next-generation GDDR6 memory, the Gainward GeForce® RTX 20 Phoenix series deliveries ultimate graphics performance with extremely high efficiency power usage.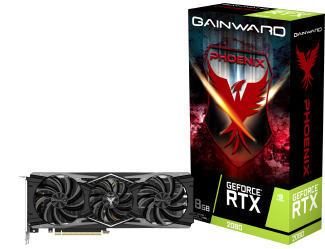 Gainward GeForce® RTX 20 Phoenix series comes with new Phoenix cooler design, provides extreme high thermal performance with very low acoustic level even under heavy-loading gaming environment. The cooler design is also including a RGB LED-lighting loading indicator that gives users clear indication for the GPU temperature range.
And, an "USB Type C" connector brings next-generation VR performance, the lowest latency, and plug-and-play compatibility with leading headsets-driven by NVIDIA VRWorks™.
Both Gainward GeForce® RTX 2080 Ti Phoenix and Gainward GeForce® RTX 2080 Phoenix also come with factory over-clocked boards – GAINWARD "Golden Sample" version, will bring extra frame rate for the most demanding gaming enthusiasts, users will experience a whole new class of the performance enhanced 4K gaming environment with it.