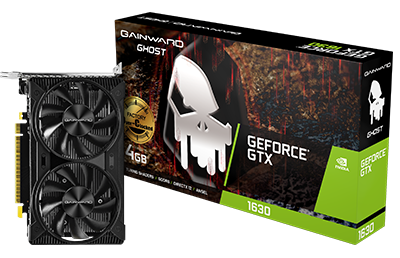 As the leading brand in enthusiastic graphics market, Gainward proudly presents the new Gainward GeForce® GTX 1630 Ghost Series graphics card.
The Gainward GeForce GTX 1630 Ghost Series is powered by the award-winning NVIDIA Turing™ architecture and is equipped with faster GDDR6 memory. The new model is in a similar class with GeForce GTX 1050 Ti, and even brings 1.17x better gaming performance than the GeForce GTX 1050. Supporting DX12 and NVIDIA image scaling, the Gainward GeForce GTX 1630 Series also empowers the creator tasks and ensures better image quality.
The Gainward GeForce GTX 1630 Ghost Series comes with dual-fan design and "ZERO-RPM FAN." This feature allows the fans to stop spinning when the GPU core temperature is relatively low, making this model silent under lighter workload. 170mm in length, the model meets mini-ITX form factor and supports small pc setup.