As the leading brand in enthusiastic graphics market, Gainward proudly presents the brand new GeForce RTX™ 4090 and GeForce RTX™ 4080 Series video cards, powered by NVIDIA's next-gen Ada Lovelace GPU architecture.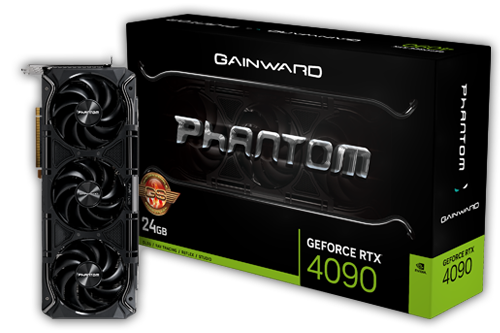 Powered by the new ultra-efficient NVIDIA Ada Lovelace architecture, the 3rd generation of RTX, GeForce RTX™ 40 Series graphics cards are beyond fast, giving gamers and creators a quantum leap in performance, neural rendering, and many more leading platform capabilities. This massive advancement in GPU technology is the gateway to the most immersive gaming experiences, incredible AI features and the fastest content creation workflows. These GPUs push state-of-the-art graphics into the future.
GeForce RTX™ 40 Phantom Series - The Night Baron
Emerged from the shadow. Born to challenge.
The GeForce RTX™ 40 Phantom dwells in absolute darkness, cultivating relentless forces and boldness within. Upon its shadow black portrait, the two lightning strips decorated on the cooler electrify the gamers with hardcore power to fight without fear. Upon its murk silhouette, a tint of ARGB on the side logo is the only symbol allowing you to notice The Night Baron's secret existence.
The model comes with renovated thermal structure, leveraging the all-new Cyclone Fan for extreme cooling performance. The Wing Tip on fantail converges the air current, collecting maximized airflow into the cooler. The sharp claw marks engraved on the fan blades further smooth the airflow and lead the air to the heat sink steadily.
The GeForce RTX™ 40 Phantom further comes with Diffuser Fins, Hyper Conductive Heat Pipes, and Ultra-Dense Protection Plate for unbeatable thermal performance and extra protection to the boards. The robust build structure makes the Phantom Series mighty, dynamic, and ready to rebel in dignity.
Gainward also releases Phantom Reunion edition on the GeForce RTX™ 4080 12 GB sku, offering more options for gamers and creators who enjoy the original Phantom cooler design.