FRAMES
WIN GAMES
144+ FPS BATTLE ROYALE
POWERED BY GEFORCE

Battle Royale games demand maximum FPS. Get the competitive edge you need with GeForce.
---
be the last one standing
A faster graphics card delivers higher frame rates, and higher frame rates means quicker reaction time. That's why players with better graphics cards average higher Kill/Death (KD) ratios in Battle Royale.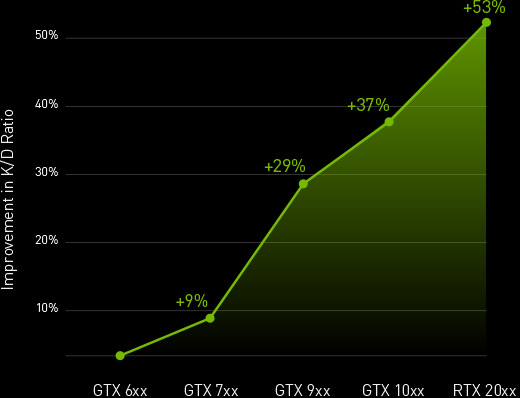 Based on Fortnite and PUBG relative kill/death ratio on GTX/RTX-class cards from each series.
Source: NVIDIA. Note: RTX 20xx includes 2070, 2080, 2080 Ti.
unbeatable performance
240 FPS and 144 FPS gaming with Geforce®
Fortnite, Apex Legends, and PLAYERUNKNOWN'S BATTLEGROUNDS all demand the best hardware to win. The most important gear to achieve 240 or 144 FPS gaming in Battle Royale games is GeForce graphics cards.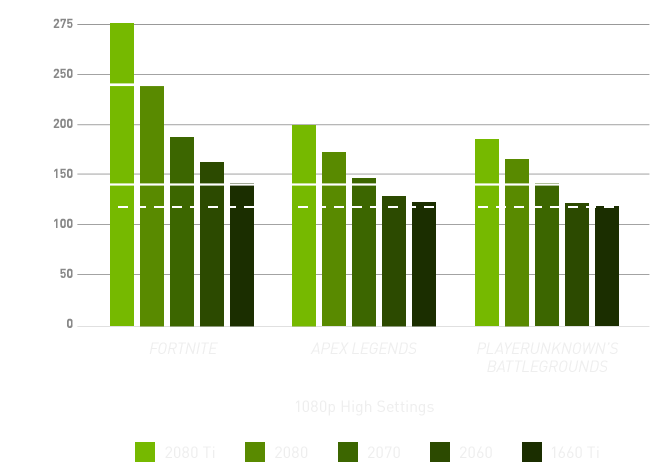 Performance average at 1080p. i7-8700K. 120 FPS, 144 FPS,
and 240 FPS is the recommended performance to run 120 Hz, 144 Hz, and 240 Hz monitors respectively.
---

©2019 NVIDIA Corporation. All Rights Reserved. NVIDIA, the NVIDIA logo, GeForce, GeForce Experience, and NVIDIA Turing are registered trademarks and/or trademarks of NVIDIA Corporation in the United States and other countries. All other trademarks and copyrights are the property of their respective owners.